ApplicationXtender Auditor Search
Tired of printing reams of pages for the auditors? The Auditor Search module (formerly Guest View) from ECM Toolbox allows you to quickly give precise access rights to records inside ApplicationXtender for "temporary" or "guest" users. This solution is very useful for visiting auditors who need to see select records or employees who are visiting HR and desire to view their records.
| MODULE FEATURES | BENEFITS FOR USERS |
| --- | --- |
| | Search across standard indices and retrieve query results |
| | Easily set security so that a person or group can have access to a set of documents |
| | Track and view which records have been "turned on or off" and viewable to auditors in the past |
| | Control who has access to the AX Guest View module |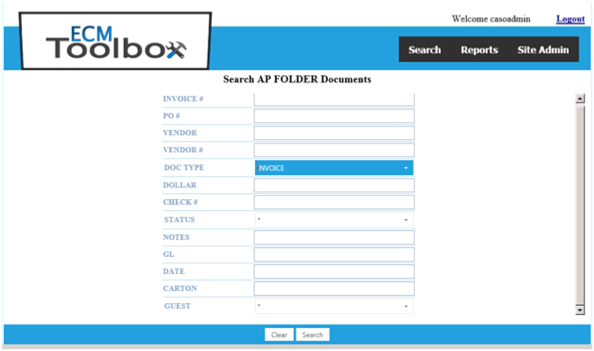 Example Use Cases
Human Resources can let an employee see their records securely for a certain time frame. Departments can share records with other departments in a controlled manner.
How Guest View Works
Select individual records or use quick "All" selection
Records are marked as Guest View "Yes" or "No"
User Security ensures that the Auditor or Guest can only see the records flipped to "Yes"
Flip records back to "No" with a quick change
Works with ApplicationXtender CM security or Active Directory
Web-based user interface