ApplicationXtender Guest View Module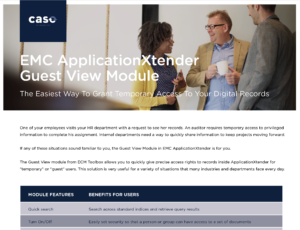 The Guest View module from ECM Toolbox allows you to quickly give temporary users or guests access rights to records inside ApplicationXtender.  These users can search across standard indices and retrieve query results.  The Guest View module also tracks which records have been "on" or "off" and viewable to auditors in the past. In other words, it's a powerful document management tool that will help improve your productivity! Download this free data sheet now to learn more!
To download this resource, please complete the form below.