Book Scanning Services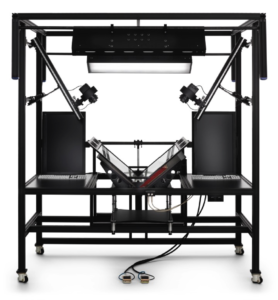 You have decided to have your rare books scanned, but fragile, rare texts cry out for special handling. What is the solution?
CASO Document Management is The Gold Standard in Rare Book Scanning!
With 20 years experience, a proven track record, and the most sophisticated equipment in the industry… you will rest easy, knowing that your rare books or historic documents are in great hands!
We have developed an easy, streamlined, worry free process that prevents any damage to your original materials.
Our knowledgeable and friendly staff is available to consult with you regarding special handling of your rare books, our process, equipment, and costs.
At CASO Document Management, we want you to rest assured that your reproduction goals will be met and your originals will be returned to you in the same impeccable condition in which they were received.
Do it right the first time, with CASO Document Management!
Introducing The Coolest Book Scanner EVER!
CASO Document Management's gentle technique employs a dual camera book capture system that offers high quality images, safe handling, and superior productivity.
The DT BC100 is the only true 48 bit system available. It is 30 times faster than other book scanners! Yet it has the added benefit of careful, gentle handling.
We know that no two documents are alike and with our DT BC100 scanner we have mastered the art of scanning:
Bound as Well as Loose Materials
Serials Including Newspapers
Loose Manuscripts
Images and Drawings
Anything in Between!
The New York Public Library Digitized their rare material with the same scanner model (DT BC100) we will use for your precious documents and rare books! Just more awesomeness! Check out this video to learn more:
How it Works
We employ the Digital Transitions BC100 book scanner, a dual camera book capture system that offers high quality images, safe handling and superior productivity.
30 times faster than other book scanning systems!
The equipment features an adjustable V-shaped cradle that is mounted on springs to absorb vibrations.
The book/document rests on the cradle's foam surface.
Two digital cameras on either side focus directly on the sheets to be scanned.
An operator controls the positioning of the cradle and cameras to ensure the best configuration.
Each camera is connected to a computer that allows the operator to customize scan settings.
The cameras are positioned to achieve even resolution of the pages. The cameras capture the target sheets and the computer screens show the previews of the captured images.
The DT BC100 is a one of a kind 48 bit system that produces superior quality photos at an incredible rate.
The book cradle holds books with binding sizes of up to 6", while the glass platen secures page sizes larger than 17"x24" or A2 size per side.
The 100 degree, anti-reflective glass platen moves with the help of a pneumatic lift system and is incapable of free falling.
Designed for mass digitization, the DT BC100 overcomes drawbacks of traditional robotic systems.
Cross platform compatibility with our DT RCam Reprographic Camera for increased versatility.
Four retractable vibration-dampening casters 8.
For Our Fellow Geeks!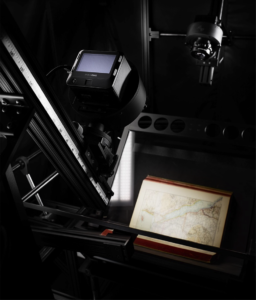 The Digital Camera Heads meet preservation grade imaging standards including the FAGDI 4-star and METAMORFOZE-Strict guidelines.
In addition, the software delivers preservation grade TIFFs, JPEGs, and PDFSs in RGB, grayscale, and CMYK modes. Open Source Raw and DNG also supported… In other words this is REALLY cool software!
We can go on about this forever, because we are in love with the DT BC100, but in the end it comes down to three things for us:
Having the best quality scan
Keeping the original safe and…
Getting it done fast!
If you agree, then we are on the same page!
Contact one of our team members today for more information by
clicking here
.