Panasonic® Scanners for Automated Mail-In Ballot Validation
Overview
Panasonic Secure Mail-in Ballot Verification Scanners are advanced ballot workflow solutions that integrate seamlessly with existing voting systems. They are designed to streamline your workflow by dramatically increasing the processing speed of incoming absentee / mail-in ballots.
With the anticipated surge in mail-in ballots, Panasonic can help election offices maintain integrity, by helping you to:
Quickly process mail-in ballots / envelopes (up to 1000% times faster)
Easily conform to your state laws
Electronically verify voter signatures with a high-level of accuracy
Key Features
Highly Accurate Signature Validation
Panasonic ballot scanning provides unparalleled scanning accuracy.
Software quickly clips, compares and validates ballot signatures against corresponding signatures in the database based on a comparison score.
Each signature is either auto-validated or flagged for further validation.
System speeds up processing time while limiting physical contact.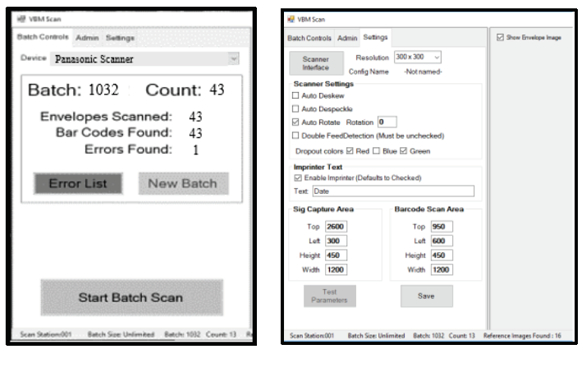 Seamless Integration with Existing Voting Systems
Import/exported directly from your native voting system.
All hardware and software included.
Panasonic on-site maintenance and support included.
Advanced Incoming Ballot Security
All incoming ballot envelopes are immediately scanned and imprinted with the date, time and batch number, reducing the number of people needed to interact with incoming ballots.
Signatures are matched electronically using the industry's leading signature verification software.
Key Benefits
Dramatic Increase in Efficiency
Panasonic scanners can increase hourly ballot processing by up to 1000% (from 50 to 1000 ballots per hour).
Process with Confidence
All-in-one solution comes with everything you need – including all hardware and software designed by a trusted leader for over 100 years.
Automated imprinting provides an extra layer of security.
On-site service and support included standard.
Makes Life Easier
Simple installation and easy to navigate interface makes processing at high volume easier than ever.
Open ended software works with your native system.
Learn how Panasonic Secure Mail-in Ballot Verification Scanners can improve the flow of your business.
Contact us today to schedule your FREE consultation.