Mailroom Scanning Services
The Mail Solution You've Been Waiting For
It's no secret that the traditional office mailroom has gone the way of the rotary phone – a relic of a simpler time, when sensitive documents were opened by hand and routed personally through the organization. Of course, business moves much faster today.
The volume of incoming mail via paper, email, email attachments and webforms make it nearly impossible to manage sensitive records and create sustainable workflows. The result is slow, error-prone and downright risky data management that adversely impacts business
Enter Digital Mailroom by CDM: the high-quality, cost-effective mailroom solution that can transform your entire organization.
Customized for the Way You Do Business
Digital Mailroom by CDM is customized to align with your existing business processes. As a leading provider of ECM and Workflow Automation Solutions, CASO Document Management (CDM) can streamline processes across your entire organization – to dramatically reduce document processing time and give you the power to easily search, retrieve, route and manage documents from anywhere, anytime
With Digital Mailroom from CDM, you can leverage:
Cost-effective document management for all mail and invoices
Reclaimed space, time and resources
Custom workflow automation via business rules
Cloud or on-site solution
Real-time disaster recovery
Incoming Mail Handling
Whether we pick up your mail from the post office or you in-source your mailroom to us, CASO Document Management will open every piece of mail and invoice and scan any and all mail needed. We can also accept incoming email, fax, SFTP, or any other digital files and combine it with scanned paper mail.
Document Scanning & Indexing
Utilizing state-of-the-art document scanners from Kodak Alaris, we will do all the prepping, scanning, indexing, and quality control needed to ensure the highest document image quality. Ask about our automatic document classification and optical character recognition (OCR) capabilities if you need to automatically extract data from your documents. Mail in by 10am can be on your desktop by 2pm.
Workflow & Distribution
Once released from QC, your document images will be merged with any other incoming electronic files and routed via workflow automation software to the right personnel based on business rules.
Why CASO Document Management
CASO Document Management (CDM) has been a leading provider of practical, cost-effective document management solutions since 1994, with Document Care Centers in New York City, San Antonio and Pittsburgh, as well as onsite management throughout the US. With a management team totaling more than 100 years of specialized experience, CDM has a proven track record of successfully implementing document scanning and management solutions within even the largest and most stringent commercial and government regulations. We offer a full-range of imaging services and content management solutions tailored to each company, industry or specific project. We support hundreds of regional and national clients in retail, finance, government, healthcare, education, construction, manufacturing and other sectors.
Proven Data Security
CDM maintains the highest standards of document security and confidentiality for data-based service organizations, including essential compliance in SOC2 and HIPAA. In choosing a document scanning and management partner, you should be aware that these compliance audits are non-negotiable. Selecting a service bureau without them puts you at risk of data breach, and should not be considered a viable option.
SOC2 Type II Certified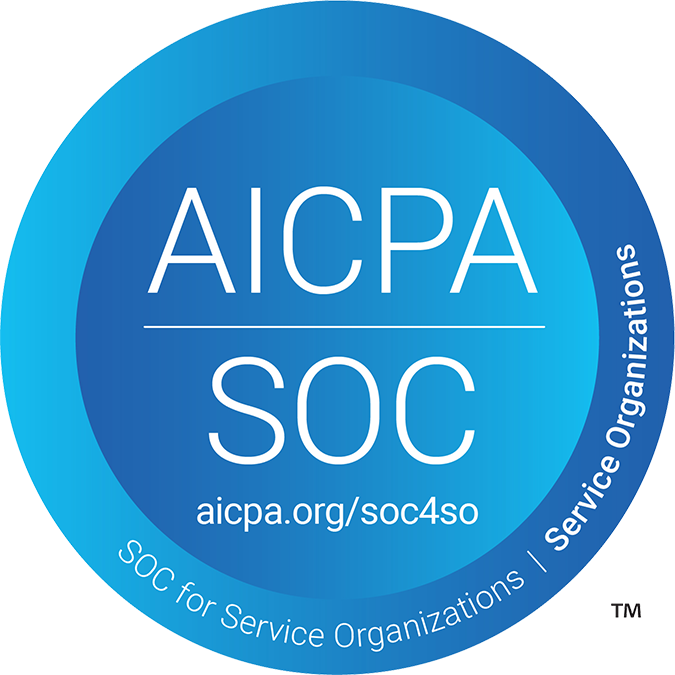 CASO Document Management (CDM) has completed the American Institute of Certified Public Accountants' (AICPA) Service Organization Control (SOC) 2 Type II audit for the 8th consecutive year. This audit validates CDM's efforts to maintain data security practices of the highest standard for regulated and non-regulated entities alike. CDM has achieved SOC 2 Type II Certification each year since 2015.
HIPAA Compliant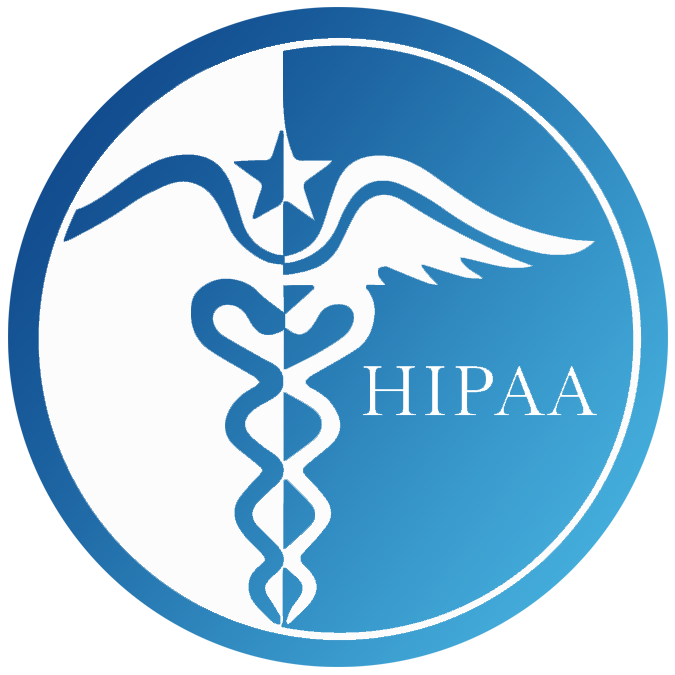 CASO Document Management (CDM) has affirmed its commitment to health information security with its company-wide HIPAA Compliance training. The entire CDM staff, including employees at all CDM locations, have received certificates of achievement for HIPAA compliance training – ensuring that all health-related information on medical records and all other documents within its care is managed in accordance with HIPAA privacy rules.
With CDM's company-wide HIPAA compliance training, CDM meets this federal requirement. Together with its SOC 2 Type 2 certification, CDM provides the highest level of excellence in document security and confidentiality.
Mailroom Scanning Process Diagram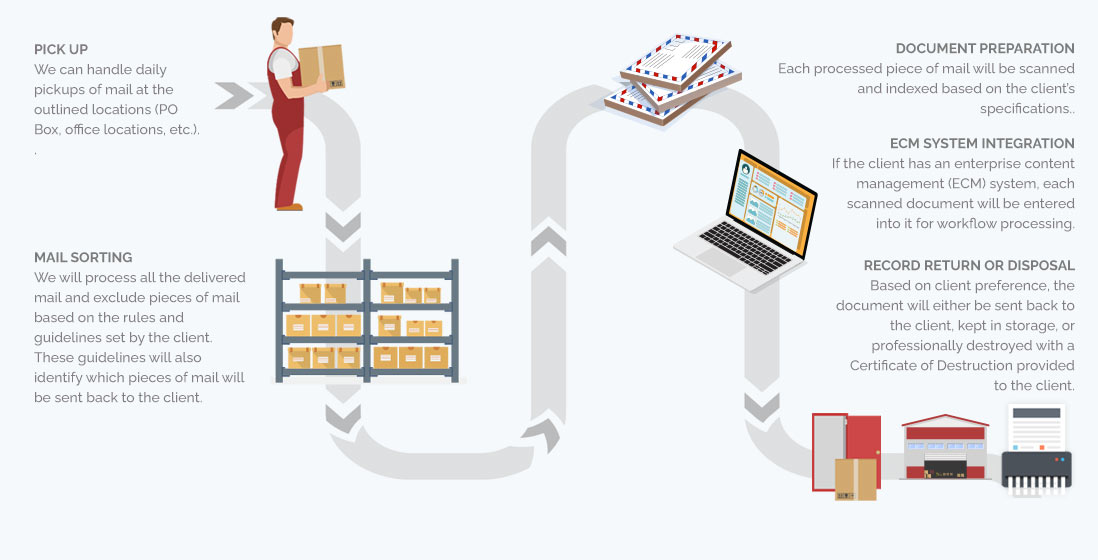 Resources
Click on the boxes below to view the specific article in our resource section.
Mailroom Scanning
Data Sheet
5 Steps to Creating a Paperless Office
Does Purging Files Pay? Preparing Files for Scanning
Case Studies
Click on the boxes below to view the specific case study.
"CDM's Digital Mail Workflow has given us the ability to not only serve our clients during these unprecedented times, but also to empower us to deliver our renowned services with unmatched speed, accuracy and security."
Gregory Lawler – GPM Life
Fill out the form below to get in touch with us. We'll get back to you right away.