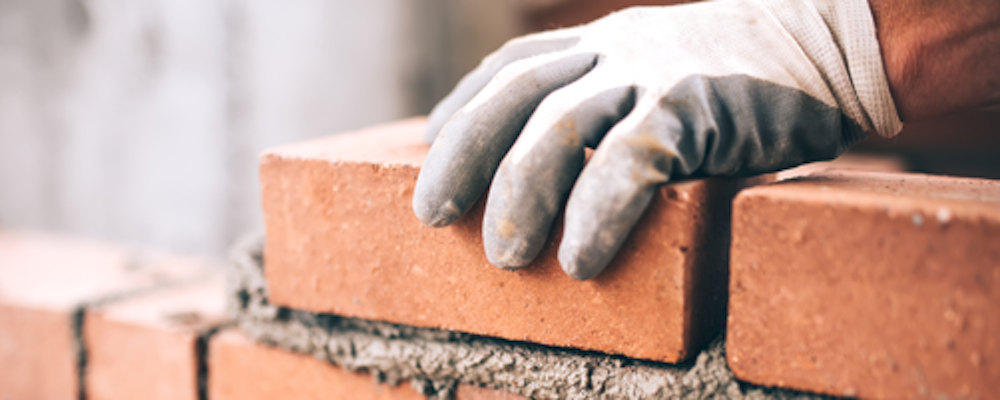 Construction Solutions
Today's construction projects requires swift, effective collaboration between multiple disciplines. Architects, managers, builders, engineers, contractors and subcontractors primarily accomplish this through shared documents. Lots of them. From bids to contracts, invoices to specs, the sheer volume of content being generated rivals that of the print industry itself. Not surprisingly, construction professionals have been turning to digital solutions to help manage it all. With the right digital solution, you can increase productivity, eliminate waste, save space, speed up the approval process, and keep up with the competition. Perhaps most importantly, it costs less to go digital than to stay on paper.
For over 20 years, CASO Document Management (CDM) has specialized in document management solutions that boost your business and your bottom line, including document capture, workflow automation, and ECM platforms with best-in-class software from OpenText, ABBYY, Digitech Systems, Hyland and more. We can help you manage and securely access all of your critical content whenever and wherever you need it.
With CDM Construction Solutions, you can:
Centralize Your Documents
Speed up the Approval Process
Complete and Sign Work Orders Remotely
Capture Data from the Field
Streamline Invoice Processing
Automate CAT invoice processing
Integrate with Your ERP Solution
Capture Early Payment Discounts
Lower Operating Costs
Automate HR, Onboarding and I-9 Management
Ensure EEOC and similar compliance
Eliminate filing cabinets and storage
Reduce risk of litigation
Caterpillar (CAT) Invoice Process Module for ApplicationXtender
CAT Invoice Process Module extends ApplicationXtender's functionality to enable automated "Parts Invoice" processing between construction companies and Caterpillar dealers.
This solution eliminates manually handling invoices – including data entry of the invoice header, footer and line information and then uploading to ApplicationXtender and indexing it. The AX CAT Invoice Process Module does this for you automatically – saving you time, labor, and improving accuracy.
Benefits:
Eliminates invoice scanning / metadata entry
Automates invoice entry / reconciliation
Improves invoice accuracy
Eliminates manual steps
No need to process paper copies
Frees up your time to route/process the invoice and associate it with the correct job.
Sent encrypted for ultimate security
How it works:
Invoice created by dealer and uploaded to CAT IP system (integrated e-hub)
CAT IP sends the invoice XML data electronically to a URL within the client environment
The invoice data is received by ECM Toolbox CAT Invoice Module and saved to a database
ECM Toolbox converts the data to a pdf that can be inserted into ApplicationXtender (AX)
ApplicationXtender receives and indexes the invoice automatically
Workflow automatically detects new invoice and begins regular routing workflow
Invoice is uploaded to ERP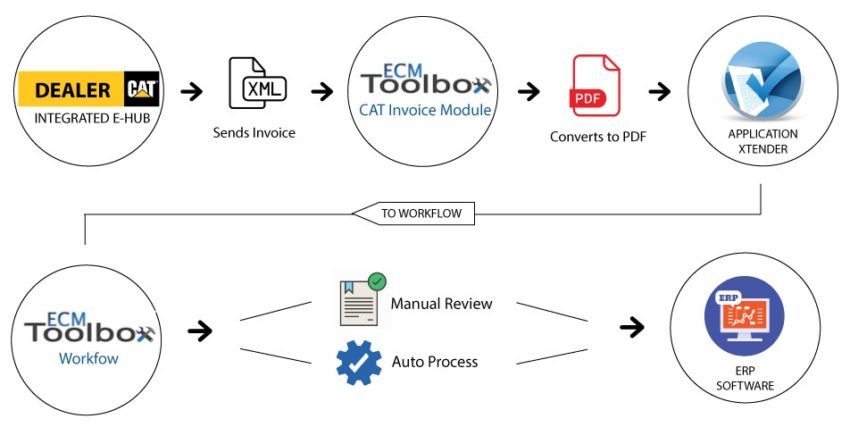 Notes
"Service" Invoices can be added to the CAT Invoice Module
We will need confirm CAT Dealership(s) participate in the CAT IP system
Whether you are looking to reclaim space, automate your workflow, or implement a comprehensive Enterprise Content Management system for your construction firm, our certified specialists will help you find the solution that is right for you.
Contact us today for a free consultation.