Case Study: The Philadelphia Contributionship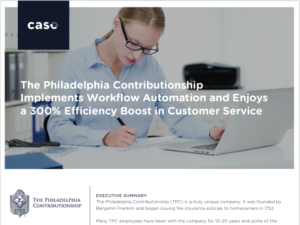 CASO implemented ECM Toolbox's Workflow with EMC ApplicationXtender document management software enabling The Philadelphia Contributionship to complete policy change requests 300% faster without hiring any additional employees.  Productivity of managing underwriting inspections improved by 250%, while reducing the team from 5 to 2 people. To learn more about this process, download the free case study now!
To download this resource, please complete the form below.