Customer Card Feature for ApplicationXtender
Have you ever needed to create a quick new document from a snippet of an existing document? The ECM Toolbox  AX Customer Card solution is the answer! This feature is especially helpful for customers needing to:
Verify Signatures
Quickly Retrieve:

Customer Information
Insurance Information
Emergency Contacts

Other Additional Applications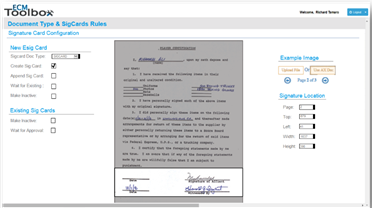 AX Customer Card is easy to use and has multiple business applications. Simply identify a document in AX and then follow these steps:
Select the document type for the new doc to be created
Select to create the card and choose your custom settings
Lasso the area in which you want to capture for the new document (shown highlighted on document)
Or use the "Location" feature exactly the portion of the document to be captured for the new doc
Save your settings
The new customer card will be created every time the system receives a document of this type!   With CASO AX Customer Card feature, document creation is quicker and easier than ever.   Call us today to learn more!