As a premier provider of professional book scanning services, CASO Document Management (CDM) stays on the cutting edge of technology.
For rare book and historic text scanning that requires preserving your originals, nothing beats the DT-BC100. But for many of your other archive books, you may wish to simply go digital and leave the originals behind. Enter the Triumph 5255.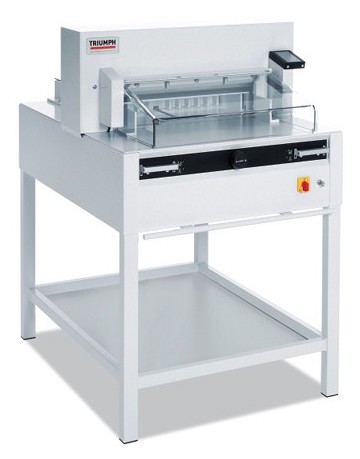 The Triumph 5255 is a cutting edge tool that speeds up the book scanning process for projects in which the binding doesn't need to be saved. It can cut books up to 3.75 inches thick with such precision that none of the page text is lost. In a matter of seconds, an entire book can be cut and prepped for rapid scanning.
Furthermore, the Triumph can be programmed to automate the cuts for your entire book collection – a once unthinkable technology that now transforms cases of content with ease. When paired with a rapid scanner, there is simply no faster, easier way to transform your books into digital files.
To learn more about book scanning technology and CASO Document Management services, contact us today.