White Paper: Effectively Managing the Challenges of Large-Scale Survey Projects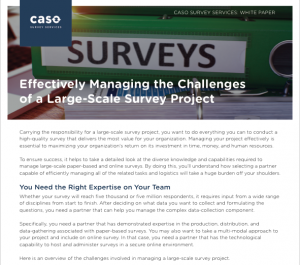 Managing your survey project effectively is essential to maximizing your organization's return on on investment (ROI) in time, money, and human resources. CASO is helping you ensure success by taking a detailed look at the diverse knowledge and capabilities required to manage large-scale paper-based and online surveys. Download this free resource today!
To download this resource, please complete the form below.