Texans Can Case Study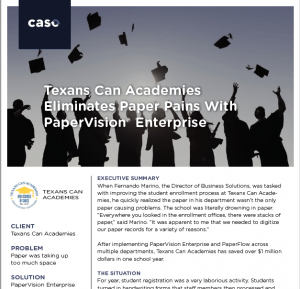 When Fernando Marino, the Director of Business Solutions, was tasked with improving the student enrollment process at Texans Can Academies, he quickly realized the paper in his department wasn't the only paper causing problems. The school was literally drowning in paper – and not just in the Registration Department. Accounts Payable, Purchasing and Human Resources were awash in manual errors that were both costly and commonplace. They turned to CASO to craft a solution that would allow them to digitize student records, invoices and purchase orders. See how they were able to scan more than thirty years of paper records and save over $1M per year with PaperVision Enterprise. Download the free case study today!
To download this resource, please complete the form below.