San Antonio River Authority Case Study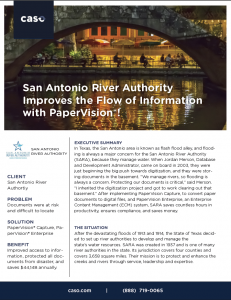 In Texas, the San Antonio area is known as flash flood alley, and flooding is always a major concern for the San Antonio River Authority (SARA), because they manage water. The irony of storing their critical documents in the basement wasn't lost on Jordan Merson, Database and Development Administrator. She turned to CASO to find a digital solution that would save them improve productivity, ensure compliance, and save money. See how successful they were. Download the free case study today!
To download this resource, please complete the form below.