Case Study: ABBYY FlexiCapture Helps Orbis to Turn Darkness into Light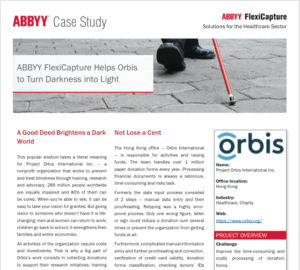 By eliminating the need for manual data entry and thereby eliminating costly errors that were virtually inevitable, ABBYY FlexiCapture helped Orbis, a non-profit that provides quality eyecare to disadvantaged communities, improve their ability to raise the funds necessary to continue their work. To learn more, download the free case study now!
To download this resource, please complete the form below.