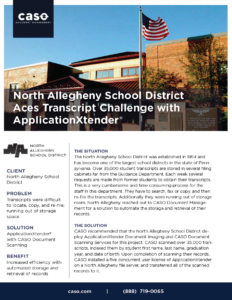 North Allegheny School District retrieves 35,000 transcripts in seconds
With over 35,000 student transcripts filed far from the Guidance Department, North Allegheny School District needed some extra help. Handling transcript requests had become a very cumbersome and time consuming process. They reached out to CASO, who installed ApplicationXtender and leveraged their world-class document scanning services – to make scanning, storage and retrieval of 35,000 transcripts as easy as 1-2-3. Learn more. Download the free case study!
To download this resource, please click on the button below.