Case Study: Kainos and HP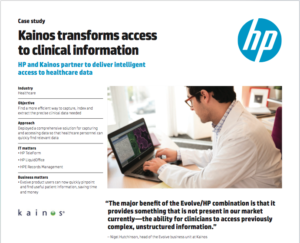 Kainos is an innovative healthcare technology company that believes one surefire way to improve patient outcomes is to make access to critical clinical information easier than ever. They partnered with HP to provide that access to complex, unstructured information that had previously been available exclusively in archaic written formats that were not ideal for cutting-edge care. To learn more about the power of HP technology when paired with an innovative vision, download this free case study now!
To download this resource, please complete the form below.