eForms Solutions for Human Resources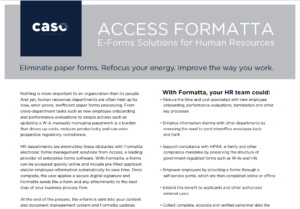 CASO eForms Solutions (along with Formatta) provides organizations with the ability to create, store, retrieve, and associate various documents, eliminating the need for paperwork. Automate your entire Human Resources process, from employment applications, hiring, and onboarding to employment separation. This reduces storage costs while improving efficiency and allowing for instant and effortless retrieval of all necessary HR documents. Download data sheet now for more information!
To download this resource, please complete the form below.