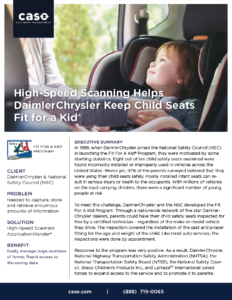 DaimlerChrysler retrieves 40,000 inspection forms in seconds
Confronting a national epidemic of failed child-seat safety inspections DaimlerChrysler and National Safety Council (NSC) teamed up to launch "Fit For a Kid," offering free inspections at participating locations. But first they needed to set up a method for collecting enormous amounts of field data critical to the program. They turned to CASO, who created custom-designed forms for rapid scanning and data capture, and installed ApplicationXtender for easy data retrieval. Now they can retrieve 40,000 inspection forms in seconds. See how they saved lives with world-class efficiency. Download the free case study now!
To download this resource, please complete the form below.