Center for Life Management Case Study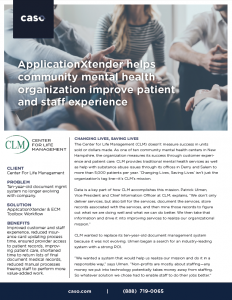 As one of ten community mental health centers in New Hampshire, CLM measures its success through customer experience and patient care. Not surprisingly, data is a key part of how CLM accomplishes this mission. In an effort to replace its ten-year-old document management system with one that offered industry-leading technology and a strong ROI, they turned to CASO. CLM chose ApplicationXtender® combined with ECM Toolbox Workflow, which can integrate with their e-prescribing, medication interaction checking, scheduling, and documentation systems. See how CLM has improved the patient and staff experience while saving time and money. Download the free case study today!
CASO Improved customer and staff experience, reduced insurance card updating process time, ensured provider access to patient records, improving patient care, shortened time to return lists of final document medical records, reduced manual processes freeing staff to perform more value-added work.
To download this resource, please complete the form below.