Metropolitan Railroad Service Case Study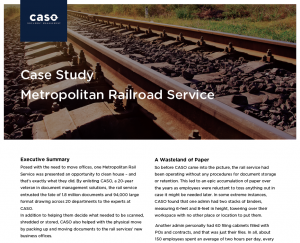 Posed with the need to move offices, Metropolitan Rail Service was presented an opportunity to clean house – and that's exactly what they did. By enlisting CASO, a 20-year veteran in document management solutions, the rail service entrusted the fate of 1.8 million documents and 94,000 large format drawing across 20 departments to the experts at CASO. See how they were able to reclaim space, improve efficiency and save over $250K per year. Down the free case study now!
To download this resource, please complete the form below.