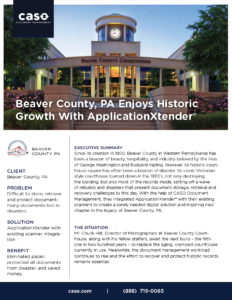 Beaver County goes paperless, improves efficiency
When Beaver County's iconic Victorian-style courthouse burned down in the 1930's, it severely damaged most of the records inside, setting off a wave of rebuilds and disasters that present document management challenges to this day. With the help of CASO Document Management, Beaver County's document repository is now 100% online. CASO integrated ApplicationXtender with their existing scanners to create a sorely needed digital solution and inspiring next chapter in the county's legacy. Learn how they are making history today. Download the free case study now!
To download this resource, please complete the form below.