Case Study: BancWest Investment Services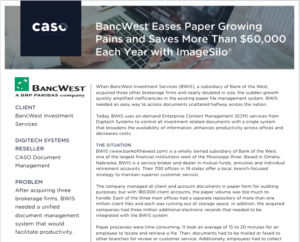 CASO and Digitech Systems converted 6.2 million pages for BancWest Investment in just 7 months, speeding up document retrieval times while improving productivity and security.  Upfront, ongoing, and storage costs were reduced, contributing to a more efficient environment. Couldn't your organization benefit from a similar outcome? Learn more about how easy the process was by downloading this free case study now!
To download this resource, please complete the form below.