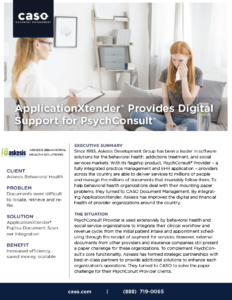 Askesis eliminates paper, improves efficiency
Askesis' PsychConsult® Provider software is used extensively by behavioral health organizations around the country to handle their workflow from patient intake to payment. However, external documents from other providers and insurance companies were presenting a paper challenge. They turned to CASO, who customized ApplicationXtender to work directly with PsychConsult. Now they have out-of-the box integration for storage and retrieval of paper documents. See how they improved their digital and financial health with CASO. Download the free case study now!
To download this resource, please complete the form below.